Pediatric Dentist Irvine
Experts in Dentistry for Children and kids of all ages
Our pediatric dentist for kids and Childrens has advanced training and many years of experience with pediatric dentistry. We offer expert pediatric dental care to set the foundation for a lifetime of excellent dental health for kids of all age.
Our pediatric dentist and staff take pride in understanding the special care needed by your child. Whether this is your child's first visit to a dentist, or if they have been in care for some years, we do all we can to help them (and you) feel at ease.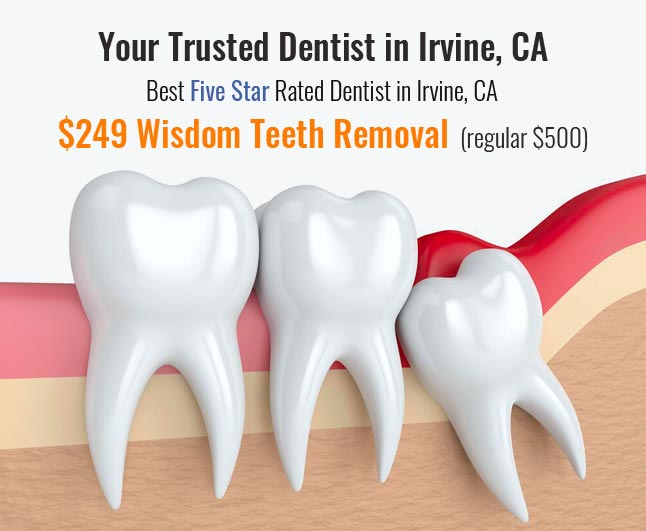 When Should My Child Start Seeing a Dentist?
As a general rule, you should schedule your child's first dental appointment once the first tooth has erupted. This usually occurs by 1 year of age. As soon as a child has teeth, those teeth are subject to decay. The primary concern in very young children is "early childhood caries" also known as "baby bottle tooth decay," which can be avoided with early prevention and home care.
Following the first visit, the American Academy of Pediatric Dentistry (AAPD.org) suggests follow up visits twice a year for dental cleanings. At home care between visits is essential.
Suffering from
Dental Pain?
Get Relief Today
Call for Same-Day Emergency
Dental Appointment
949-789-8989
Top Rated Emergency Dentists in Irvine

The Importance of Baby Teeth
Your child's baby teeth serve several important functions for their development and health:
Pronunciation of sounds
Proper chewing to facilitate digestion
Establish and preserve space for each adult tooth
Form buds from which the adult teeth develop
Though the baby teeth will eventually be lost they serve important functions for your child.
For More Information
We welcome questions from our patients and encourage you to speak to Dr. Manouchehri or any of our staff about your child's dental care. The American Academy of Pediatric Dentistry also offers information on many topics on their website, located here: The American Academy of Pediatric Dentistry
We're
Proudly
Associated
With