Dentures can change missing teeth, enhancing both your smile's expression and your overall health. New dentures will able you to eat and speak better rather than having a missing teeth.
Missing teeth also end your muscles in your face to sag, looking yourself seem older. Dentures will back your facial structure, allowing you to look younger while maintaining the muscle tone in your face, jaw and neck.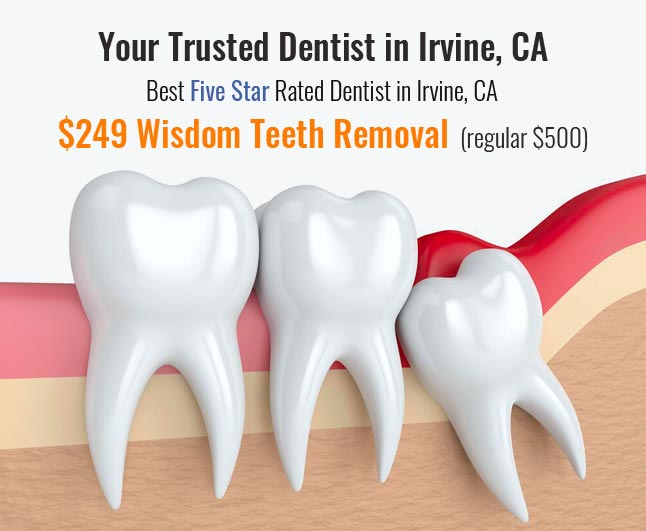 Dentures Overview
Dentures have come a long way in recent years. At OC Dental Specialists, we now offer a variety of different dentures, each custom-made to fit your specific needs.
In general, the goal of dentures is to replace missing teeth, enhancing both your smile's expression and your overall health. They aren't simply a means of cosmetic enhancement but have a strong practical side as well. Whether you get a full set or a partial set, dentures can allow you to rediscover the joys of eating or make speech much more comfortable.
Missing teeth can also cause the muscles in your face to sag, lending an older and tired look to your expression. By replacing these teeth, you will return structure to your face, allowing you to look younger while maintaining the muscle tone in your face, jaw, and neck.
Suffering from
Dental Pain?
Get Relief Today
Call for Same-Day Emergency
Dental Appointment
949-789-8989
Top Rated Dentists in Irvine

Types of Dentures
Full Dentures
A set of full dentures replaces a full arch of teeth. This could be either your top row of teeth, bottom row, or both. Conventional full dentures are removable, allowing for easy care, cleaning, and maintenance. Each set is custom made to fit your natural jaw structure and to resemble your original teeth.
When you come into OC Dental Specialists, we will evaluate your situation. Our goal is to provide you with a treatment or service that perfectly matches your needs and helps you meet your goals. We take measurements of your jaw and then start to make your own unique set of new teeth.
Removable Partial Dentures
For many patients, they still have plenty of teeth remaining. However, there can be significant gaps between teeth that make eating and speaking difficult. Additionally, when these gaps are left untreated, they can begin to affect your bone density and jaw shape.
In such cases, we offer removable partial dentures for areas of your mouth where teeth have been lost or extracted. These are held in place by metal or plastic clasps that affix to surrounding teeth.
Removable partial dentures serve as an alternative to fixed partial dentures (bridges) or dental implants. They can help to restore aesthetics and function to areas with several missing teeth.
Implant-Supported Dentures
Traditional denture styles are still excellent choices, but some patients may find them slightly unstable. Unsupported dentures can slide, shift, or even fall out. But there is a solution. New advancements in dental medicine have allowed practitioners to anchor your full or partial denture using dental implant posts.
Implants are often used for replacing individual teeth. A metallic base is installed, and a new crown (tooth replacement) is affixed to the top. However, they also have usage as an anchor for dentures.
The advantage of this style is that they provide profound stability and durability for your replacement teeth. And, they don't sacrifice convenience. Implant-supported dentures are still removable, meaning you can take them out when not in use. And when you need them, you simply attach them to the implant posts. No worries about them shifting or falling out at all.
Alternatives
In addition to dentures, we offer a range of tooth replacement services. For patients who have only lost a couple of teeth, you may consider dental implants or bridges.
Even if you have only one or two missing teeth, it can impact the rest of your mouth significantly. We recommend coming in for an evaluation before you experience and lasting changes to your jaw structure and remaining teeth.
Schedule an Appointment Today
If severe tooth loss continues to impact your life, take the first step to reclaiming your smile. Contact your Irvine Dentist today to schedule an appointment and learn more about the service options we provide.
We're
Proudly
Associated
With