Porcelain Veneers
Whether your smile is suffering from tooth discoloration, minor damage, or tooth size concerns, dental veneers may be what you have been looking for. This highly popular cosmetic dental treatment can drastically improve the appearance of your teeth, giving your smile a brilliant boost. Our quality dental veneers in Irvine are made to last, enhancing your smile for years to come. Call us today to get started and learn more about how veneers can take your smile to the next level.
What Are Dental Veneers?
Dental veneers are thin tooth coverings commonly made of porcelain or ceramic, used to cover teeth imperfections or alter a tooth's shape. They're a popular solution for many cosmetic issues of the teeth, including stains or minor damage. Known for durability and strength, veneers are a top choice for teeth restorations as the majority of cosmetic dental issues can be resolved with veneers. Veneers are also helpful for changing shape concerns for your teeth, such as filling in gaps or lengthening your visible teeth for a brighter smile.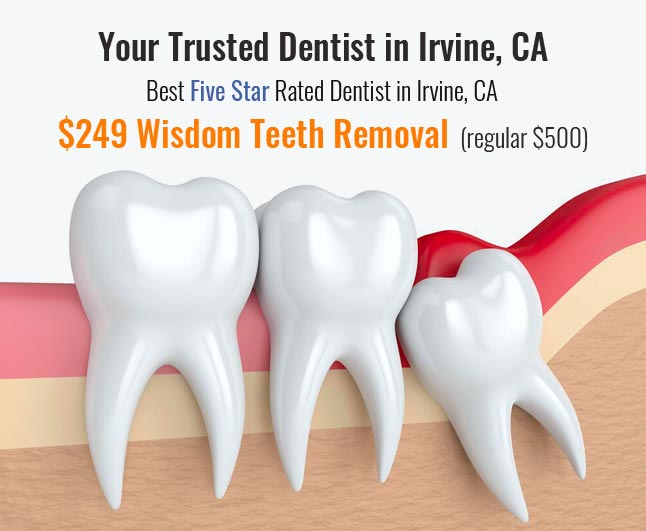 Are Veneers Right For Me?
If your dental problems are cosmetic, veneers could prove to be just what you are looking for. However, for other problems such as tooth decay or gum disease, veneers won't be able to help until you have treated those concerns. If this is your case, our dentists will recommend other great alternatives, and you can then follow up with veneers to give your healthy smile an aesthetic boost.
Keep in mind the process of getting veneers can't be undone since enamel is removed. Also, you must have healthy teeth and gums for veneer placement. If you grind your teeth or clench your jaw, you might also not have an ideal experience with veneers. Grinding and clenching can damage the covers and wear them down quickly, thus reducing the lifetime use of the veneers.
What Are The Cosmetic Benefits Of Getting Veneers?
They can help conceal a variety of issues such as:
stained and discolored teeth
chipped, cracked tooth
uneven, unsightly gaps between teeth
crooked teeth
old worn out teeth
Veneers, especially porcelain ones, will completely revamp your smile. At OC Dental Specialists, we will have your veneers custom-made at a dental lab to give them that natural look to your regular teeth. Your veneers will be stain resistant with high durability that will last years so long as you care for them properly.
Dental Bonding Vs Veneers
When it comes to dental bonding, they do have a better affordability factor. Along with a quick application compared to other cosmetic dental procedures.  Yet, the color matching can't match that of veneers. Dental bonding too doesn't have the lasting durability that veneers do. Dental bonding can last several years, veneers decades with proper care and maintenance.
Suffering from
Dental Pain?
Get Relief Today
Call for Same-Day Emergency
Dental Appointment
949-789-8989
Top Rated Dentists in Irvine

What Should I Expect During The Treatment Procedure?
The veneer placement process takes two dental visits on average. During the first visit, your trip will consist of a consultation with our experienced dentist. If you're a candidate and decide to proceed forward, we then perform a cleaning of the target teeth. Then the doctor will have a shade guide to determine your veneer color that best suits your smile, ensuring a perfect color match to your other teeth. During this visit you may also have teeth preparation.
To get your teeth ready for their veneers, your dentist will start shaving the front enamel of your affected teeth. It's usually about a few tenths of a millimeter that are shaved, but this will make enough room to accommodate the veneers. Afterward, an impression of your full teeth will be taken. We will then send these over to the dental lab for the creation of your custom-fit veneers.
Within a few weeks or less, your veneers will arrive at the office. Then you will return for a second dental visit. If the doctor sees a perfect fit and match of the veneer, they will be placed onto your teeth and bonded to them. And that is all it takes!
With your veneers in place and ready to shine, you will be able to smile confidently again. Porcelain veneers don't require any special maintenance; regular brushing and flossing will suffice. Common sense should be kept in mind though, as things like chewing ice could affect the veneer and damage it.
Schedule Your Veneer Consultation Today
Call us or use our online form today to get started on giving your smile a stunning boost with porcelain veneers in Irvine. Our dental office located in Irvine even has same-day appointments. Our experienced staff and dentists will be happy to answer any questions you may have about veneers or any of our other treatments. Our dental office accepts insurance for many procedures. For patients with no insurance, we do offer cash discounts. Call us today to lock in your appointment and see if veneers are what you need to get your smile back on track. Our #1 goal is to exceed your dental care needs and have you leave our office with a brighter, better smile.
We're
Proudly
Associated
With