Dental Implants are artificial roots for your new teeth.  They bond with your natural jawbone. Becoming a sound foundation for the abutment and crown. Crowns are the artificial teeth that look exactly like normal teeth. Abutments connect both the implant and the crown.
For many decades, modern teeth implants have been successfully used in dentistry. They are a great option to replace missing teeth. Aesthetically, they look and feel natural.
Are Teeth Implants Right For Me?
Considered a top choice for tooth replacement. Getting Dental implants makes sense for many patients.  But this doesn't mean they're the best choice for every patient.
To be a good candidate, one must have good oral health. Be free of major gum diseases and recessions. Good jawbone density is another need. Along with good personal health. Which means being free of diabetes and other self-healing altering conditions.
If you have missing teeth, dental implants can be a good choice. A thorough consultation will be needed. Call OC Dental Specialists to schedule your oral exam.
What Advantages come with Dental Implants?
Better looking appearance.  The Implants look exactly like your real teeth.
Better speech and communication.  Dentures can slip, which causes slurring of your speech. This won't happen with implants.
Improved chewing and eating.  You will no longer have to avoid chewing in areas of the mouth with missing teeth. Also no more hassles of sliding dentures during chewing.
Better Oral Health.  You will be able to brush and floss between teeth. Unlike bridges and dentures.
Long-Lasting Effect. With proper care and maintenance, your implants will last many years. Many can even last a lifetime.
Better options versus bridges and dentures. Implants afford superior comfort and stability than conventional bridges and dentures. They're longer-lasting and have less maintenance.
When Are Dental Implants Used?
Single Tooth Replacements. If you're missing a single tooth, Dental Implants can be the perfect solution. When there are tooth and root damage, the gold standard treatment option is implants.
Multiple Teeth Replacements. Several missing teeth can be replaced with quality dental implants. Giving you back the function of chewing properly. If there's a bridge, it can be fixed to 2 or more different implants.
Full Arch Replacements. For situations where all teeth are missing, implants are a great solution.  Now all your missing teeth in an arch or whole jaw can regain function. Accomplished with a fixed bridge attached to dental implants.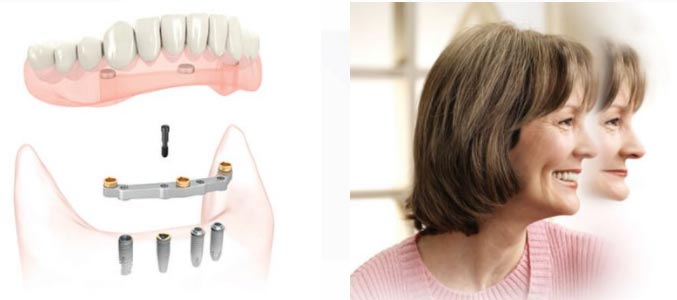 Suffering from
Dental Pain?
Get Relief Today
Call for Same-Day Emergency
Dental Appointment
949-789-8989
Top Rated Dentists in Irvine

What to Expect During Procedure
Receiving dental implants occurs over multiple visits. How many depends on each individual patient's needs. First, the dentist will insert the implant into the jawbone. Then the process of osseointegration, where the implant fuses with your jawbone occurs.  After a few months of healing, the abutment or connector is attached. Followed by the crown.
Most of our patients report that the procedure doesn't produce much pain. Everyone will have a different response and reaction. Most report minimal discomfort post-surgery.  This is normal since dental implants is a major dental procedure. An ice pack should be used to reduce swelling and manage this discomfort.
Does My Insurance Cover Dental Implants?
Some dental insurance coverages can cover a portion or all the costs while others do not. Every patient has unique insurance benefits. At OC Dental Specialists, our staff will contact your carrier and find out what your coverage is.  After your exam, the office will go over what procedures are needed for your teeth. And what the costs will be along with your coverage. Full transparency and financial options will be presented.
Why Choose OC Dental Specialists?
Our Dental office treats all patients like family.  We strive to offer all our patients the best dental care in Irvine. We understand that each patient that comes in has unique needs. Our mission is to listen, understand, and help everyone achieve their dental goals. From scheduling and billing to treatments, we want your experience to be the best.
Call us today to schedule your initial consult.  Our Dental Office is located in Irvine. We accept insurance and offer cash discounts.  Our staff can find out what your dental insurance covers. So you'll always know exactly what the costs are for your dental implants.  At OC Dental Specialists our family looks forward to helping you with all your dental care needs.